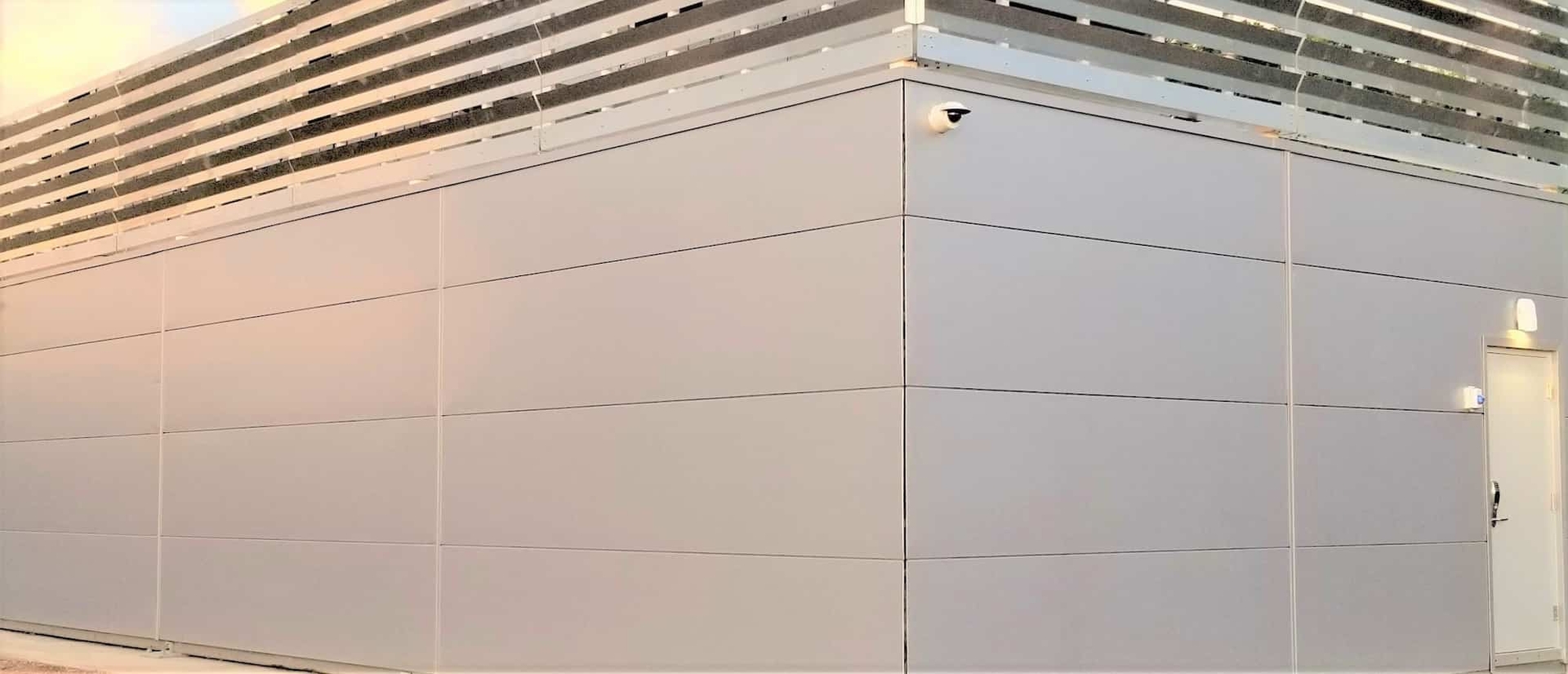 Modular Sustainability
Our Enterprise-class, factory-built modular data centers are superior to traditional design & construction methodologies from environmental, economic & social perspectives
Factory-building data centers reduces waste during fabrication and when operational. Our design processes include carbon footprint analysis to address all systems on an integrative basis, in concert with best-in-class energy modeling solutions.
The power required to cool data centers is second only to the power directly consumed by servers and other IT gear.  Unlike most legacy data centers, our data centers do not utilize raised flooring to deliver conditioned air, as it's counter-intuitive to expect cold air to rise and effectively distribute cooling for IT equipment that continually creates a heat wave. iM's modular data centers maximize Power Utilization Effectiveness (PUE), in some cases an improvement of over 50% in comparison to traditionally-built data centers.
iM's data centers are engineered for seamless facility expansion with zero downtime at predictable price-points, enabling a pay-as-you-grow approach while eliminating the need to hibernate capital.
iM's Modular ESG Advantages Include:
Responsible supply chains products and systems inherently create significant energy efficiencies
Modular data center deployments integrated into renewable microgrid locations
Compartmentalized modular designs reduce space requirements, materials and work resources, eliminating the need for electrical energy to support unnecessary footprints
Modular deployments allow for more flexible, conscious placement on sites to improve natural daylighting, ventilation, better water management, construction waste reduction, and other eco-friendly improvements
Pre-engineered solutions inherent in factory-built facilities reduce conventional design and engineering processes and costs by over half, with predictable pricing reducing typical bid and selection processes
Data Centers are assembled and tested within the factory at the same time the related site improvements are concurrently constructed, eliminating long, linear brick-and-mortar design and build processes
Deployment speed translates into lower finance costs and quicker turnaround.
Our factory-built data centers require greatly reduced site improvements and increase deployment speed to decrease disturbance to surrounding neighborhoods including noise, pollution, traffic and other negative impacts on local environments
Factory-building continues irrespective of weather and other impacts that delay construction sites, and indoor modular assembly increases production speed using multiple shifts
Quality control is easier to maintain within our factory with iM staff performing predictable, repetitive tasks supported by specialized skills
Quality assemblies break less, require no rework, avoid many forms of material waste and reduce maintenance costs, warranty follow-up and need for repairs and replacement.
Worker safety is enhanced and risk of accidents reduced by factory-building within our controlled environments specifically designed and established to address potential problems
Manufacturing (in lieu of site-building) trends toward better gender balance in an overwhelmingly male-dominated industry
Factory-building enables more control over materials used and more conscious sourcing of materials
Consistent specification, purchasing and inventorying of green materials is easier to accomplish when buying in bulk and with organized indoor storage areas, and water damage and degradation by weather conditions are avoided
Cutoffs, excess and unused materials that would normally add to local landfills close to construction sites can be stored, inventoried and used much more effectively in factory settings to minimize waste
Precise cutting of materials using repetitive computer-aided measurement eliminates work duplication and materials waste through cutting mistakes
Disciplined recycling and waste management plans along with refusing to utilize toxic components nor off-gassing materials nor other materials with those types of characteristics further reducing environmental impacts
Manufacturing allows tighter inventory processes and consistently enables more secure storage of materials and equipment, thus greatly reducing the threat of theft inherent at construction sites
Modular buildings are inherently mobile, built to last as long as bricks and mortar buildings, but can be relocated and repurposed to continue a useful life (recycled in lieu of demolition which is the only option for traditional buildings that have outlived their use).